The Problem
The Dominator Hoop founders had some of the most amazing engineering we've ever seen in a basketball hoop. There was only one problem. They had no way of showcasing it to people looking for hoops online.
They needed a website with a clear and concise way to present their value proposition and then prompt a purchasing action.
The Solution
We analyzed the Dominator Hoop and compared it to the competition. We set up the website and other internet-and video-related advertisements to establish two specific things:
Why Their Product Is Better Than The Competition

We incorporated their existing graphic design in order to clearly show that the Dominator Hoop was superior to its competition.

Clear And Effective Path To Purchase

Give the customer a very simple and attractive path to purchase the hoop on any device.
Social Media Marketing
It didn't hurt that the the founders of the Dominator Hoop were professional and college football players. When they asked some of their friends to hang on their rim, we had a field day with it on social media.
Effective Training On The Product
Part of selling the product was giving the customer confidence in the installation process.
Competitor Compare and Contrast
We show how easy it is to set up and then demonstrate the superiority of the product in online marketing campaigns.
Paid Search Marketing
We built a cohesive Paid Search Campaign in order to have the Dominator Hoop come up in the Google shopping feed as well as for other relevant search terms.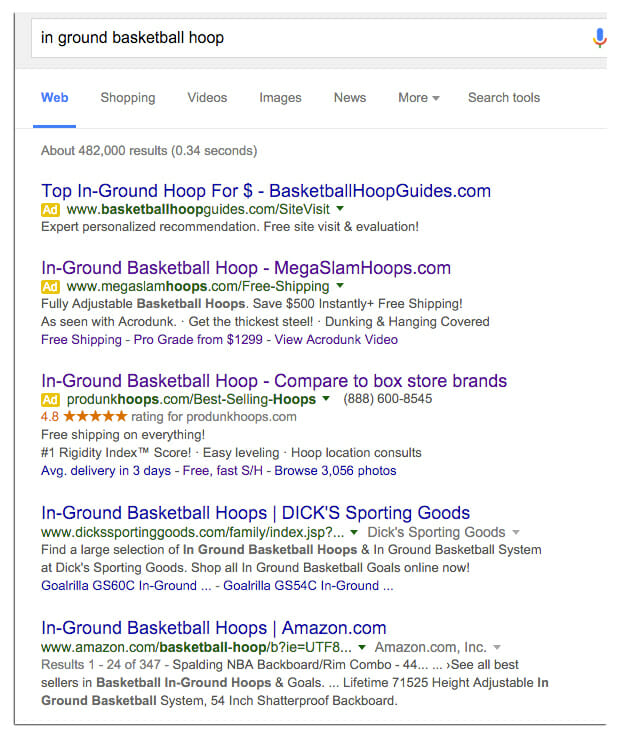 Internet Marketing Services For E-Stores
A multi-faceted approach to selling products in competitive online marketplaces