Just under a year ago I went on a desperate search for the perfect skateboard to ride with my kids. I wasn't able to get out into the water much to surf during the El Nino winter because of a bad lower back and a demanding work schedule. So I really wanted to get a skateboard that could give me that feeling of surfing in the streets. So I did what everyone else does nowadays and went to the internet. I watched tons of Youtube videos of people riding different types of longboards. I went to Google's product listing feed over and over again. I went to Amazon. I read tons of reviews, which for the most part were all positive. It seemed like there was a solid fan base for each type of board I looked at and they were happy to give a positive online review. I also realized that a lot of those reviews we're canned and solicited. Many of them were probably made up. All of this contributed to what I call "Information Suffocation."

I had tons of information and yet was still as dumbfounded as the day I began my search for that perfect skateboard. So I called up one of my buddies that used to live in San Clemente and loved to surf. His name was Jeff and he also had some injuries that had taken him out of the water. He had moved up to Utah for business and I knew he loved to ride skateboards down Provo Canyon with his kids. Jeff wasn't just another online review. Jeff is one of those guys that will always give it to you straight. Jeff is also one of those guys that makes his decisions meticulously. I knew that he had probably already invested a ton of time and money into finding that perfect skateboard. He had the mind and the means to do so and I knew he'd be willing to brain dump on me. He's done it for me in the past with other online purchases I'd made.
So I called him up and our conversation went something like this:
Greg: "Hey Jeff…whats going on man? Is it cold up there in Utah?"

Jeff: "Yeah…freezing. What's up man?"

Greg: "So my kids are getting skateboards for Christmas. I need to get one for myself so I can cruise around with them. There are so many choices and I don't have a clue. I also haven't been able to surf much. I want a board that gives me that 'feeling' back again."

Jeff: "Oh man! I've been through so many boards but I've got the perfect board for you. There's this board by a company called 'Carver' that the U.S. Surf Team uses to practice when it's flat. It literally feels like you're carving a wave! I'll send you a link."
Jeff sends me a link to a checkout page and a promo video
Greg: "Thanks Jeff…I'll check this out."
At this point I liked what I saw on the Carver landing page Jeff sent me…but it wasn't much different than all the other brand landing pages and promo videos. Still I was sold on this Carver board. I was going to buy. It wasn't the cheapest board for sure, but I was moved down the funnel so fast that it would make any eCommerce marketing department's heads spin. So what was the secret to such an easy sale for Carver?
Jeff was the secret. Jeff was an advocate for the brand because of his experience with them as a customer. I viewed Jeff as an expert because of his unbiased experience with the buying process and product usage. He had 'been there and done that' as it pertained to trying skateboards and we had a lot in common. I didn't feel like Jeff was going to try to "sell me" on anything. I was looking for someone I could trust to help me make a buying decision that had been in my shoes. I didn't want to drop three hundred bucks and be unhappy about it. All the internet clutter made my decision confusing…but Jeff made my buying decision clear.
But it wasn't just the purchasing decision that Jeff helped me with. When I went to actually check out and purchase the skateboard, I was faced with a decision between two types of skateboard trucks. Again, I didn't want to spend over three hundred bucks and get the wrong trucks. I wanted the trucks that would give me that feel of being on a wave, and digging in deep to make a big turn. I wasn't going to add my new board to the cart and check out until I had the answer. So I texted Jeff and asked him which trucks I should get. This is a pivotal time during the checkout process. I'm unsure about what to get. I'm stopped in my tracks because I'm not going to purchase without knowing for sure. If I didn't get an answer quickly and confidently, I might have gotten cold feet and abandoned the cart. I might have lost interest, got distracted, and never came back. But sure enough…I got an answer back from Jeff right away telling me which trucks I should get. Bang! Sale made.
If only every eCommerce company out there had a 'Jeff' advocating for them and helping ignorant customers like myself down the funnel.
When I called Jeff about the skateboard…he was working as the VP of Strategic Alliance Sales for InsideSales.com. He had nothing to do with Needle. But not too long ago I noticed that his Linkedin profile changed and that he was working with a company called Needle. I'd never heard of Needle so naturally I checked out their website and tried to figure out what they did. When I first looked at their website, I couldn't figure out they did. I could tell they were working with some big names…but still…no idea what it was they were doing. I think I first said something to Jeff like; "you guys provide chat services…like Olark?"
"No!" he said. "We provide consumer advocacy for large online retailers."

"So you provide review and reputation management software for companies? You help them get some stars?" I asked

"No…" again came the reply.
I had no idea what he meant by consumer advocacy. So he took me through some of his slides and gave me some examples. I was starting to understand. We then started to talk about our dialogue that took place last November about my skateboard dilemma. "That situation" he said, "that is what Needle does."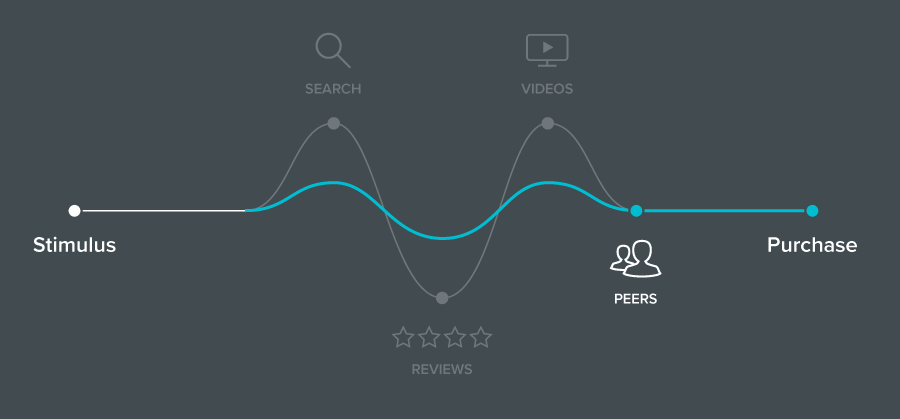 When he said that…everything started to click. It was genius…I thought to myself. And it couldn't have been a better fit for Jeff. It was natural what he did for me with the skateboard. Crazy enough… what Jeff did for me on a whim was the Needle business model in action. It was humanizing the sales process. Saving millions in gimmicky front end CTA's while dramatically increasing sales and improving long term customer satisfaction. Just this one little service inserted into the sales equation would create a positive impact on an entire organization.
So if I was a big online retailer…I would definitely pay attention to what they're doing. This very philosophy helped me into a skateboard and on to shredding the streets. I probably would have never bought a skateboard from Carver. I didn't have enough information on them to make a decision. But Jeff advocated for them and I couldn't be happier. And guess what…now my kids think their other boards are lame and they want Carver boards instead. Thanks Jeff…
Customer advocacy paid off big time for Carver, but imagine if you were a big brand with millions of people sitting at the bottom of the funnel unsure about whether to hit the checkout button or not.