Kidney Specialist Group Case Study
Find out how our marketing for doctors helped NAMG, one of the largest kidney specialist groups in California increase online leads by 5X
The Problem
The third largest kidney specialist group in California (Nephrology Associates Medical Group) had over 20 doctors in 11 locations. The group had no website, and therefore no ability to be found online by new and existing patients. Each location had inconsistent and incorrect contact information scattered across the internet. When someone searched for a doctor, they rarely found accurate listings.
Because the group had no website, they were not ranking on any of the google search queries and losing out on significant business. The inaccurate contact information was also frustrating to existing patients
The Solution
Lemonade Stand built a robust and responsive custom website in both English and Spanish. Once the website was built, we did a baseline analysis on where the website ranked on the major search engines. Then we took steps every month to ensure that the medical group was ranking high on the search engines for the keywords or terms that their patients are searching for.
We made sure the website is what potential patients find first when they're doing due diligence on a doctor or group. We found that people searched the internet for the group name, doctors names, nurse practitioners names, and keywords that helped them get to know the doctor. By ensuring that the doctors website was found first, we were able to control the type of information that was found on the doctors and ensure that it was accurate.
SEO, Key Search Terms, and New Patients
We also ranked the website for queried search terms that turn into new patients. Such terms included queries for "kidney doctors", "kidney specialists", "renal care physician", "kidney physician" etc.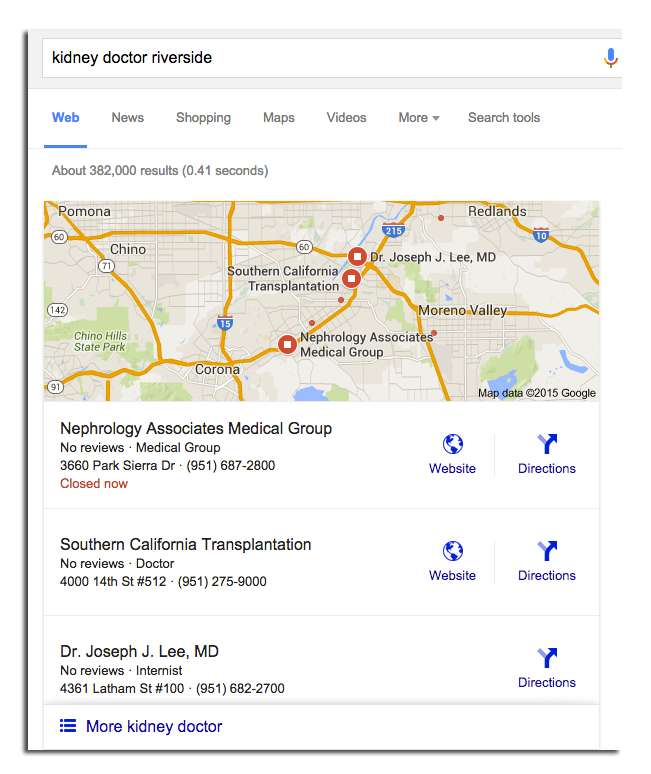 We Didn't Stop There Though…
Next we helped Nephrology Associates Medical Group tell their story and engage their patients by creating high quality videos. Everything from doctor advice to dietary cooking shows, we were able to give Nephrology Associates Medical Group something that really makes them stand out among any of their competitors.
"My organization has used Lemonade stand for about 3 years. We have benefited greatly from their help in terms of SEO and increased business. I wholeheartedly recommend them for any business that is looking to grow."

-Pete Donald, Chairman of The Board, NAMG
The Payoff Has Been Huge
Some doctors don't see the importance of their internet presence in building their practice. They don't think it will "pay off." Nephrology Associates Medical Group is direct evidence that it does.
Over a two year span, we've been able to track a 5X increase in web traffic and call volume group wide. Five times as many calls translates into an ROI that is just astounding to a group like theirs.
They are growing…and we are right there with them, supporting them and helping them reach their goals.
Internet Marketing Services For Doctors
12 locations throughout Southern California