Lemonade Stand's social media marketing team designs eye-catching ads, manages your social campaign budget and maximizes your engagement while lowering your cost per interaction.
Put simply, we give you a strong presence on social media without the headache. Social media marketing is often one of the primary ways we'll drive traffic to your website. We use social networks to syndicate blog entries and other content to people interested in your services. We craft campaigns aimed at your target demographic so you aren't wasting your money on disinterested people.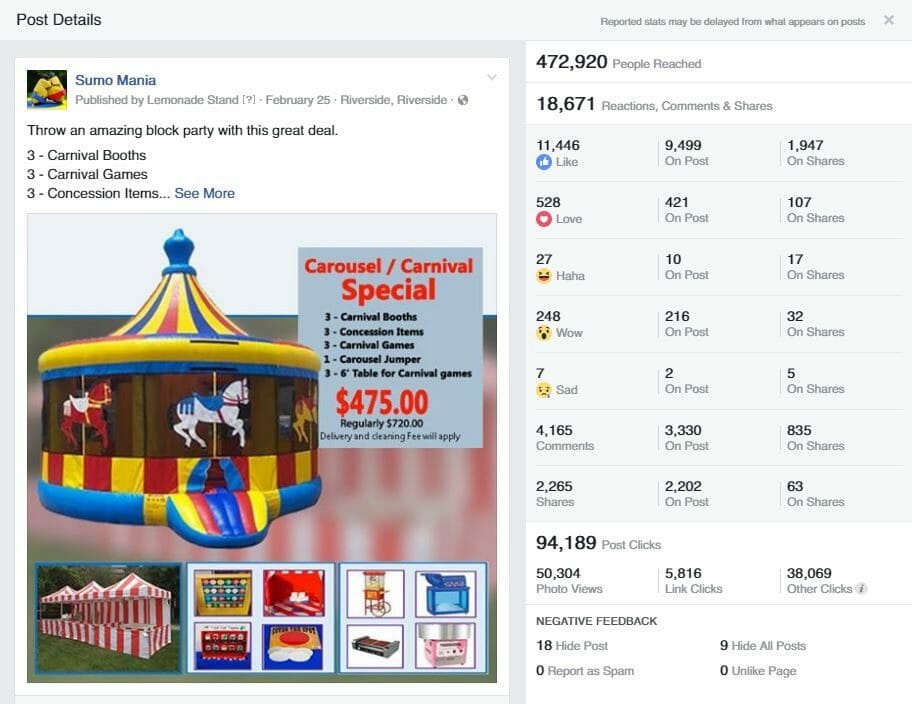 Case Study: Sumo Mania
A sale or coupon advertised on your website will only travel so far. But when we posted this ad for Sumo Mania on Facebook, it took off. With over 470,000 people reached and nearly 19,000 reactions, this is one of our most succesful social media marketing posts ever. It's a testament to just how many eyes you can capture.
Of course, we can't guarantee this much sucess on every project. (Something tells us their line of work helped a lot!) But we can promise our team will work tirelessly to extend your online reach.
Most businesses now know the importance of social media marketing, but it can be hard to know where to start. Which networks should you target, and how? How should you approach customers on social media differently than you would with more traditional advertising?
Lemonade Stand takes the guesswork out of the process. We'll always explain why we think a certain move is best, and how it can positively affect your business. If you've ever got a question about your social media campaign, you can just call us up.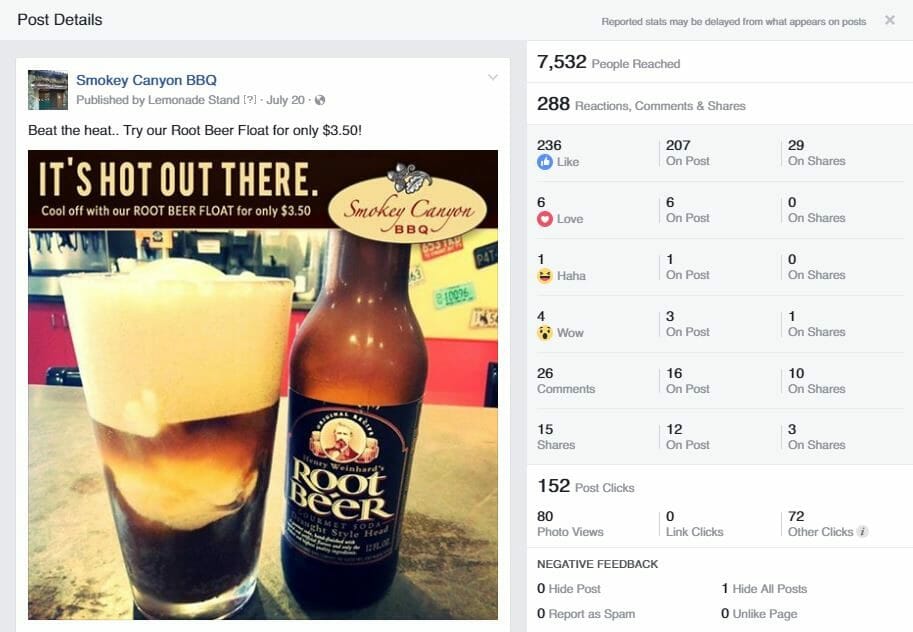 Case Study: Smokey Canyon
Social media marketing is often a matter of timing more than anything else. A post about root beer floats around lunch time on a hot day can reach thousands of people – even when the ad itself is fairly simple.
We craft a campaign that suits your needs and budget, and we're always easy to get ahold of. Plus, we don't do contracts – which means we fight to earn your business every month.
Social media marketing is a necessity, not a perk. Your customers are spending time on sites like Facebook, Instagram and Twitter, and we can help you reach them with promotions designed to convert.
Lemonade Stand's team has worked with businesses and organizations of all types and sizes. We know what works and we treat our clients like partners. You won't get a marketing agency telling you how to run your business. Instead, we'll work with you to highlight your strengths and bring new customers in – because we grow when you grow. Let us know how we can help today.