Medical Marketing With Proven Results & Experience
We provide healthcare marketing services to physicians and medical groups to help them grow their practice and maintain a good online reputation.
Get A Quote
Read Our Founder's Story
No Contracts.
Transparent services. Measurable results. Insanely fast support.
Every month, your dedicated account manager will let you know exactly what the Lemonade Stand Team is doing to help improve your online presence and drive new customers to your business. We're so confident that you'll love our Full-Service Internet Marketing that we have no contracts — we fight to earn your business every single month.
We Specialize
in Medical Marketing
Learn about our Founder's specialized marketing background with physicians.
Hey… I'm Greg and I'll share everything I know about Healthcare and Medical Marketing
Prior to about 2012, physicians and hospitals almost never had to focus on online marketing.
But notice how the online search demand for healthcare marketing begins to explode in about 2013 to 2014.
It was about 2012 when I realized that a medical marketing strategy was going to be one of the most important things a physician or a medical group could do in order to grow their practice.
The advent of review networks such as Google Reviews, Yelp, and directories such as Healthgrades and Vitals became a go to resource for patients as they did their due diligence while looking for a physician.
I found that many of the older physicians were reluctant to spend time, energy, and resources on their internet presence. But soon it became apparent that the younger physicians who focused on getting better reviews and building a better website were starting to take a big share of the new patients in a given locale.
All of this was happening because people began using the internet and social media for everything they did.
"Doctor near me"
"Best cardiologist in New York"
"Experienced nephrologist in Los Angeles"
These types of searches became the de factor standard for finding and researching a physician. Even the referrals from family doctors were met with diligent "Google research" by the people who received the referral. No one wanted to go to a physician with 1 or 2 stars on Google.
How The Internet Changed The Healthcare Industry
Physicians could no longer be "low tech." There was pressure on them to have nice websites, patient portals, be able to be found quickly and on the first page of Google with accurate information across all of their directory listings and much more.
There was even a patient demand for them to create useful content for their patients. Here's an example of a video we created for one of the largest Nephrologist Groups in California. We helped them create a series of diet and cooking tips for their patients suffering with CKD.
People began to be drawn to physicians whom they considered to be "up with the times" and technologically savvy.
They also, for some strange reason, began to associate a doctor's web presence with his or her competency as a doctor. Sad, unfair, and insane… I know… but nevertheless, it was true.
Depending upon your specialty and the level of competition in your respective city, it would be helpful to implement a few of the following healthcare marketing strategies.
Start by implementing these strategies in this order:
1. Healthcare Website Development
This is your starting point. This is where everything comes together for you with your web presence. This is the hub and everything else about your online presence are the spokes.
You'll need a clean and modern looking website with plenty of "trust factors" on the page. You'll also want your website to be built in WordPress and ready to be properly search engine optimized.
Here's an example of a website we built for a group of kidney specialists: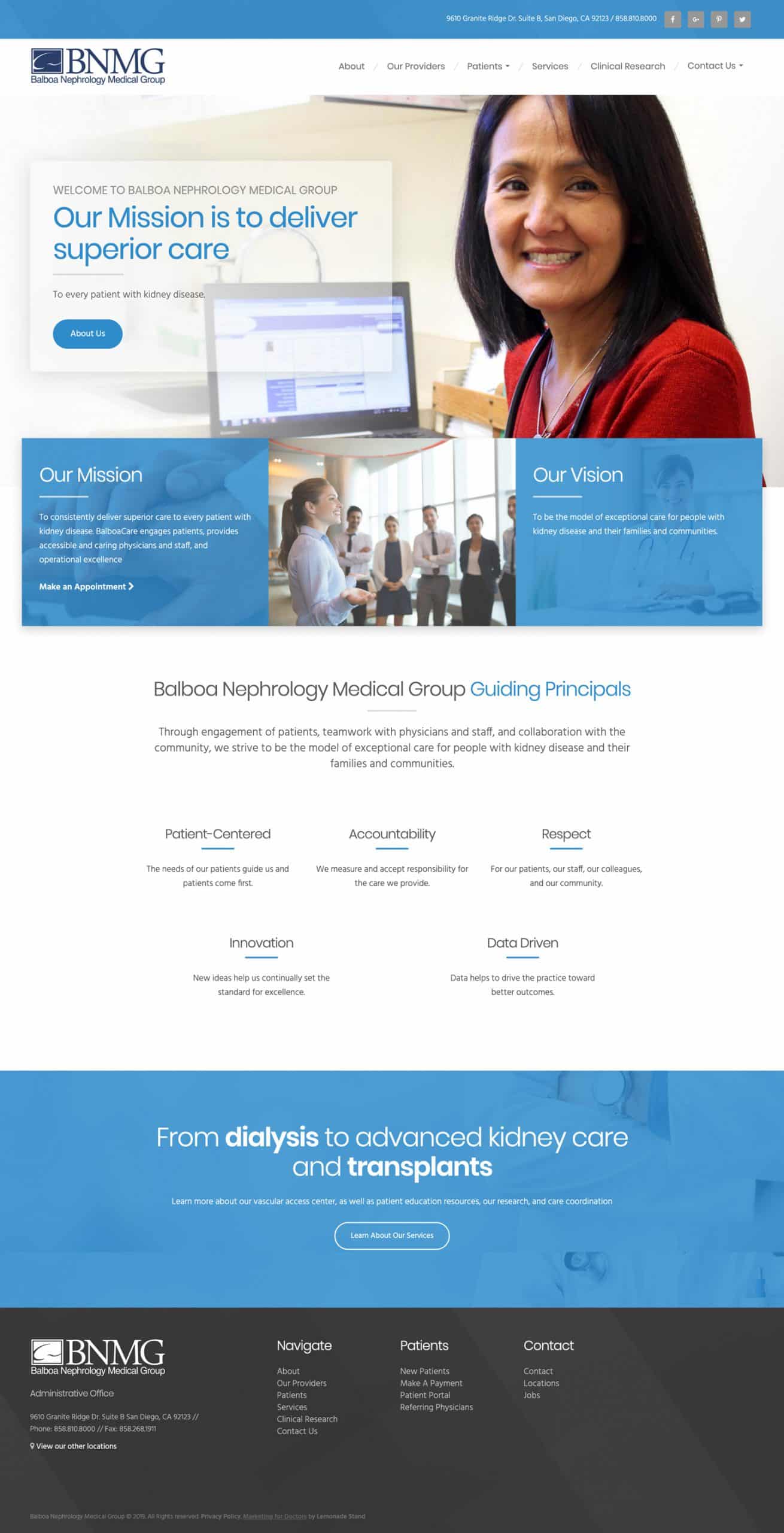 There are various kinds of healthcare websites. You can see a list of the top 50 healthcare websites in the world and their associated traffic. Most of the top medical sites in the world are used specifically for research, but the sites we build for doctors and medical offices are built to help potential patients pick up the phone and schedule an appointment. Our goal is to instill trust in the doctor or medical practice so that they can grow their practice.
But most importantly, when it comes to your website… NEVER use a company that is replicating the same website over and over again for thousands of other doctors. There are companies that provide websites for doctors by copying the same website over and over again. They'll change the name of the doctor and a few pictures, but the overall site is an exact replica of thousands of other doctor websites. They also use the same content over and over again in their blogs and on the actual website. Google will penalize your site for having that duplicate content on it.
You'll also want to make sure that you stay away from DIY or D0-it-yourself website builders. There are too many limitations to make it worth your time, and will stifle you when you are trying to do internet marketing to generate new patients.
Spend the time to write your own authentic content and have a custom website built for you. Your practice is valuable, so don't sell out when it comes to your most important digital asset.
2. Healthcare SEO (Search Engine Optimization)
Once your website is complete and hosted on blazing fast, secure, and reliable servers, you'll want to begin performing medical Search Engine Optimization or SEO on your website.
SEO is the process of getting your website to come up near the top of the search engine results for people who may be looking for a doctor in your area of expertise.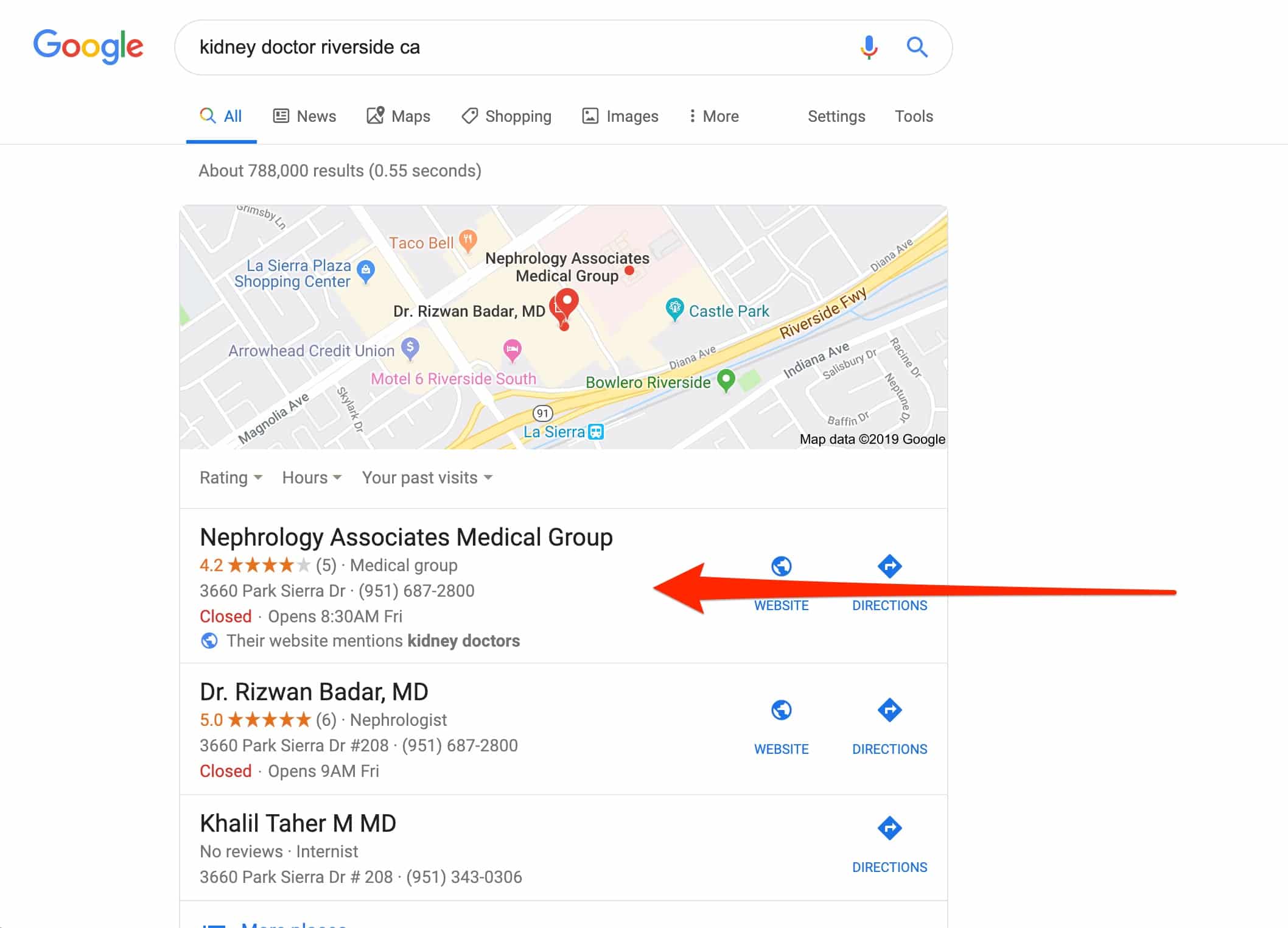 There are many factors that go into whether a physician's website will rank at the top of the search engines. Some of those factors include:
Competition
Age and credibility of their domain name
Directory listing unification (How many directories you're listed in and if they're accurate)
Online reviews
Backlinks
Website structure and readability
No canned or duplicate content
How the code is organized on the backend of the website
Internal linking
and many other technical factors such as page speed and hosting factors
More often than not, the doctor doesn't have the time or the desire to worry about all of these factors. They just want more patients and they'd prefer to spend their time getting better at their specialty.
If you do have the time or the desire, this beginners guide to SEO can you perform healthcare SEO on your site if you decide to go it alone.
3. Healthcare Content Marketing
Content marketing for healthcare service providers is among the most effective medical marketing strategies out there. You can build blogs, resources, infographics, videos, podcasts, and many other types of relevant and useful content.
For instance, you can build trust by shooting a video like this one below and then posting it on your social media accounts or on your website as a resource. This type of content builds trust like nothing else when it comes to new patients.
When doing content marketing, you've got to make sure you're not using a marketing company that is just throwing up canned content.
There are marketing and website companies that get rich by buying or writing one piece of content and then selling it to thousands of doctors.
If you'd like to find out if a healthcare marketing company is providing their clients with copied or duplicate content, ask them for an example website that they've worked on for another doctors office. Then go and find one of the blogs on that example website. Then go to Copyscape and enter the URL of that blog. If nothing comes up, you'll know that the company writes and produces original content. If other articles come up, you'll know that marketing company is trying to pull one over on you.
Not having original content is one of the primary ways to get your site penalized by Google. So when you think about it, it's no fun to pay a marketing company to ruin your online presence.
Content marketing can be one of the most effective strategies for acquiring new patients. But doing content marketing wrong is just asking for trouble.
4. Paid Search Marketing For Physicians
Using Google Ads or Bing Ads, we are able to bid on keywords that you as a physician might want to come up for in the search engines. There is an associated cost per click every time someone clicks on your ad, but it can be used effectively to achieve a very lucrative ROAS or Return on Ad Spend.
Most doctors aren't aware of Pay-per-click, so you can really take advantage of the lack of competition in this advertising niche.
A couple things to stay away from though:
Make sure you don't try and run PPC campaigns on your own using Google Ads Express. You will most likely spend a lot of money with very few conversions.
Stay away from bad landing pages. If you spend money to drive someone to your website or landing page, make sure that your landing page is conversion ready. If it's not, then you'll just waste money sending them to a page that is not ready to convert.
5. Healthcare Reputation Management
We build review wizards that encourage patients to leave reviews about the physician or group. This increases the trust that people have in you when they search for your name online.
Notice the sequence below for one of our current multi location Nephrology Groups. It's a series of easy step by questions to make it easy for patients to review your practice.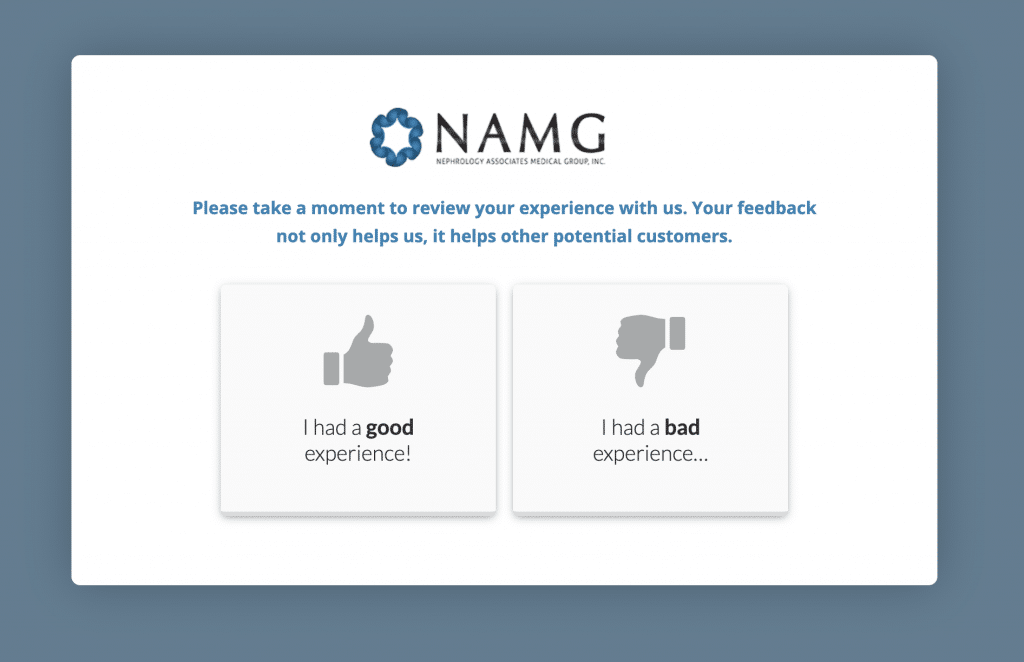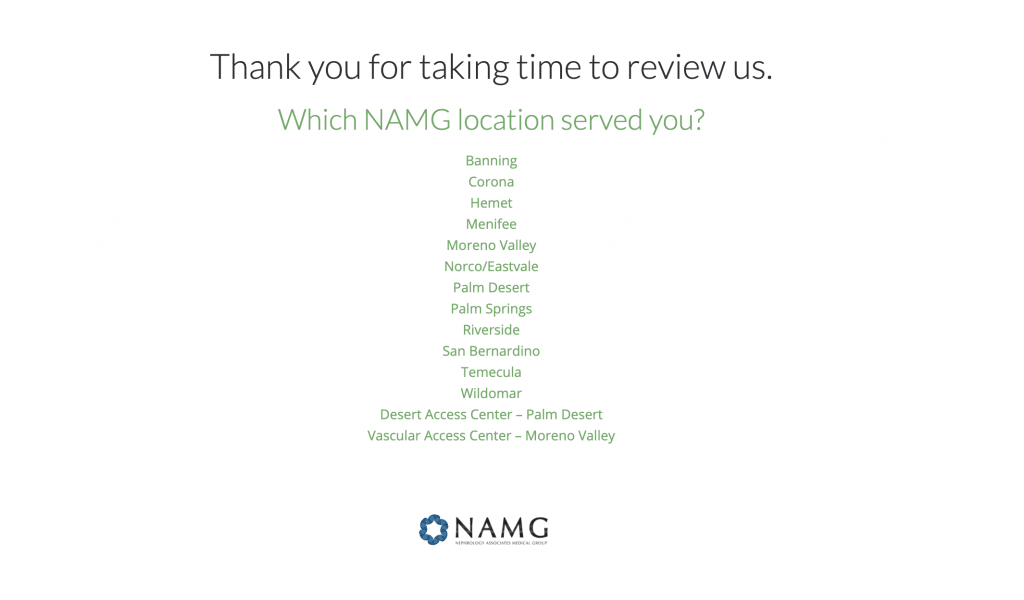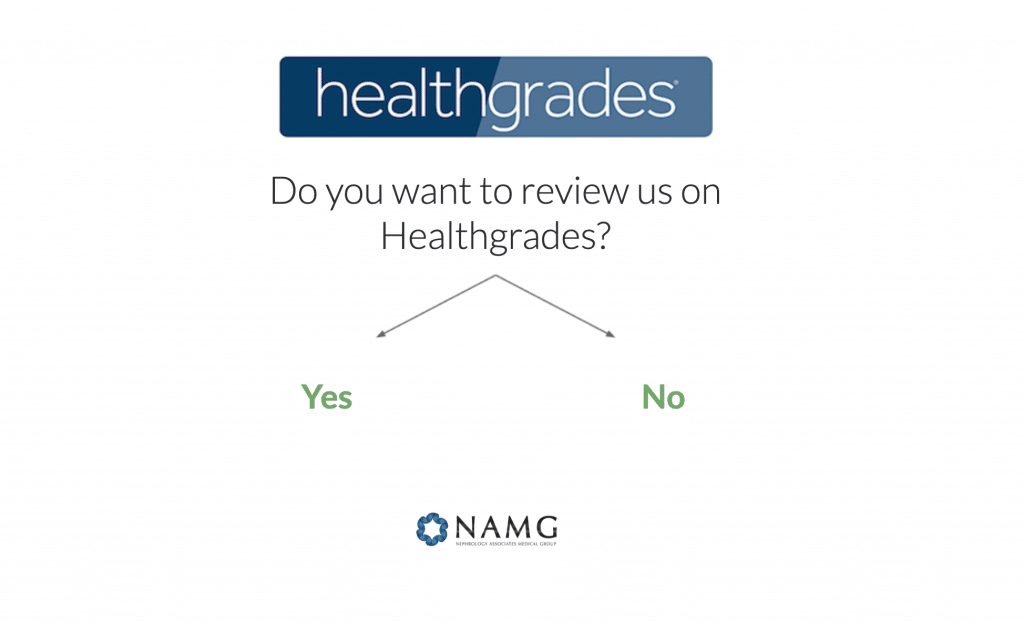 Through our review wizards, we help you mitigate bad reviews by giving you an opportunity to try and fix the situation before someone goes and posts about it online.
If you're wondering how some of your competitors have 25, 50, or 100 5 star reviews, then they are most likely using this tactic.
6. Competitive Analysis
We can tell you every single detail of your competitor's digital marketing strategy. After analyzing the competition, we're able to better identify the exact actions we need to take in order to overtake the competition and ensure that you are outranking them in the search engines and getting more of the clicks when people are searching on for your service or niche specialty.
7. Measuring and Growing
We don't implement any of our strategies blindly. We live by the mantra, "what you can measure, you can manage." We'll be with you every step of the way to help you build, grow, and sustain a thriving practice.
How we can help…
I've trained a substantial team to help physicians and medical groups all around the country. We'd love to support you and help you with your online presence as well.
Give us a call or fill out this form if you'd like to know more about the healthcare marketing program we've developed for healthcare practitioners and groups.


FAQ
Medical Marketing Case Study
See what we've done for other standout physicians and medical groups.


Nephrology Associates Medical Group
Nephrology Associates Medical Group or NAMG is a leading kidney specialist group located in Southern California. For the past 7 years, we've helped NAMG become one of the most well recognized and fastest growing specialist groups in California. See how we went about increasing their online calls by more than 5x.
"My organization has used Lemonade stand for about 3 years. We have benefited greatly from their help in terms of SEO and increased business. I wholeheartedly recommend them for any business that is looking to grow."
– Pete Donald, Chairman of The Board, NAMG
See More Reviews
Trusted Physicians & Groups Choose Us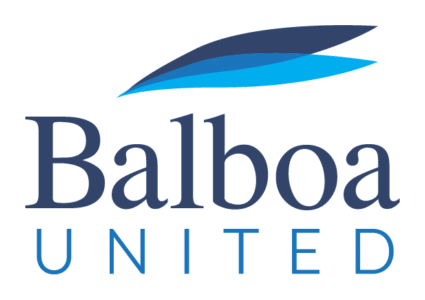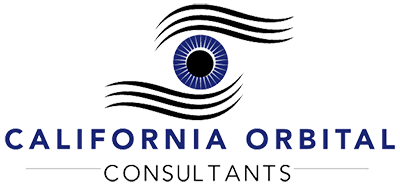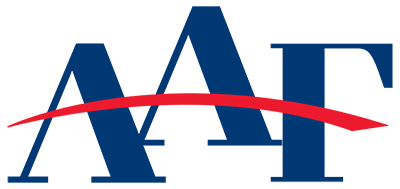 Want to See Something Cool?
Hit one of the buttons below to discover just how insanely fast our support is.
Get a Quote
(951) 900-4925