Pest Control Marketing & Website Design
Our team has designed and built successful pest control marketing strategies for some of the region's most successful local pest control companies. We understand your customers, how to reach them online, and how to get them to call you.
Get A Quote
Read Our VP's Story
No Contracts.
Transparent services. Measurable results. Insanely fast support.
Every month, your dedicated account manager will let you know exactly what the Lemonade Stand Team is doing to help improve your online presence and drive new customers to your business. We're so confident that you'll love our Full-Service Internet Marketing that we have no contracts — we fight to earn your business every single month.
We Have a Background
in Pest Control Marketing
Find out how our VP of Marketing brings in 100+ new customers every month for one of Southern California's most successful Pest Control Companies.
Hey… I'm Chris.
I'm the VP of Marketing at Lemonade Stand. I've been working on marketing for pest control companies for as long as I've been in the internet marketing industry.
One of the first marketing campaigns that I managed early on in my career was for a growing pest control company in Southern California.
My mission was to manage and grow that company's internet presence in one of the most competitive regions a pest control company can operate in.
The region was a primary destination spot for door knocking pest control salesmen to come and make a few sales in the summer before going back home or going to school.
But as I began working with various pest control companies, I realized that sales guys and their commissions were astronomically expensive. Not to mention a headache to manage and recruit.
I also noticed that there seemed to be a shift in how people wanted to be sold pest control.
People were tired of door to door solicitations from sales guys. They preferred to leave their door shut and act like they weren't home and then do a Google search for a reputable pest control company near them.
So we decided to focus on building effective pest control marketing strategies.
The results told the story…
People began to search for pest control services by typing search terms such as "pest control near me" into the search engines.
You can see the evidence of this by the real time Google Trend chart showing the trend upward in those related search terms over time.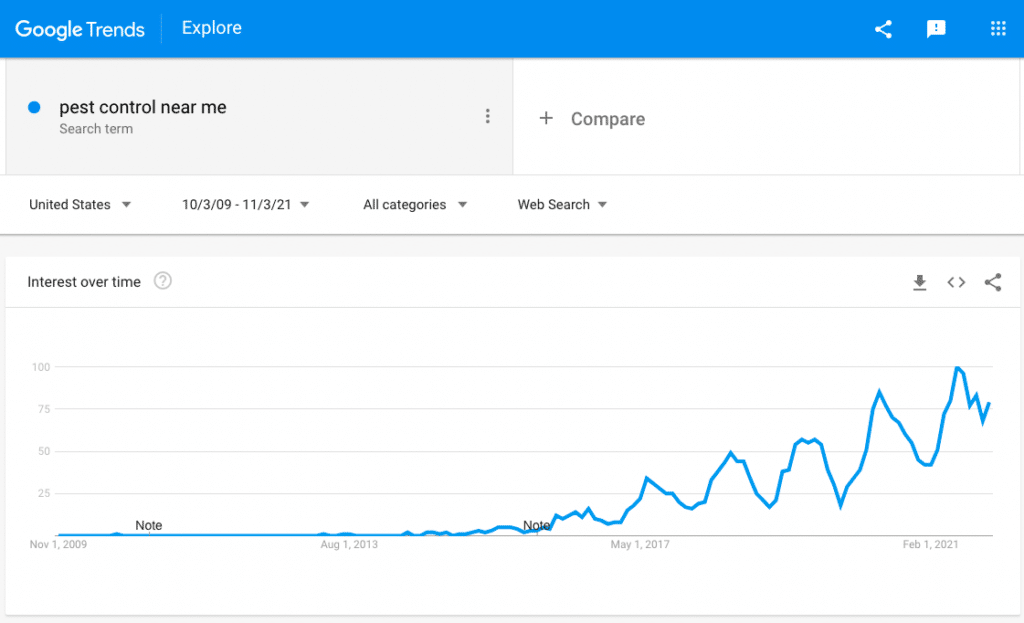 People we're tired of "being sold" on pest control and they opted to go and find a pest control company on their own.
The reason they did this was because they could find out so much more about the company by researching them online than they could through the salesman standing at their door.
What it meant for pest control companies…
The most progressive pest control companies decided to jump in the game online and start competing online.
All of this meant that online marketing was going to become an important part of their overall marketing strategy and customer acquisition.
It meant that the pest control websites needed to actually look nice and have a good deal of high quality content.
It meant that pest control companies needed to take control of their online reputation and then have a plan for generating more online reviews.
It meant that their local business listings and directories were going to be huge when it came to beating out competitors on the maps listings.
It meant that SEO and PPC was going to become one of their most consistent sources of leads all year round instead of just relying on summer sales teams.
And it meant that I was going to become an expert and train the rest of our team on all of these strategies in order to help our pest control clients generate inbound leads month after month.
How we can help…
Give us a call or fill out this form if you'd like to know more about the Pest Control Marketing Program we've developed specifically for a company like yours.
For less than you'd pay for a yellow pages ad, or directory listing, or a part-time staffer that knows nothing about marketing a pest control company, we can begin generating passive leads and improving your online presence for long-term dividends.

Want to See Something Cool?
Hit one of the buttons below to discover just how insanely fast our support is.
Get a Quote
(951) 900-4925